Tel: (91-22) 2772 8034
Fax: (91-22) 2772 8035
sainathfwd@sainathforwarder.com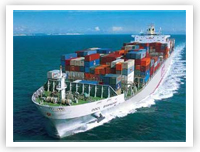 Sainath Forwarders Pvt. Ltd. has a well-established global freight and trade network, offering a single-source solution to manage and transport freight. With an extensive team of experts supervising operations and offers the best solutions with its access to a vast agent network of air, ocean, rail or road transport facilities, all of which provides its customers with faster and wider access to vital markets globally.

Sainath Forwarders Pvt. Ltd. offers 24 hour services which includes all pre-shipment and post shipment formalities, custom clearance of containerised, bulk, break-bulk and Project cargo, can provide the solution to any shipping requirement and serve as a single-source logistics window for all products moving through your supply chain. Being an efficient international ocean freight forwarder, we provide comprehensive services to almost all seaport locations. Our experienced associates are trained to guide you through the complexities of international shipping. We offer tailored programs to meet our clients' full container load (FCL) and less than container load (LCL) requirements and transportation cost objectives. Our services include flexible sailing schedules, shipment tracking, purchase order management and space protection during periods of high demand.

Sainath Forwarders Pvt. Ltd. known for offering reliable and efficient air-freight forwarding service throughout the world, with an excellent network of operators who are available 24 hours a day and seven days a week, we promise a timely and cost effective delivery of goods to the desired destination, with years of experience in the freight industry.
Sainath Forwarders Pvt. Ltd. global airline partnerships to offer lowest price, transit time, fixed allocations and lift capacity of carriers in each major trade lane and their ability to add efficiency to our clients' supply chain management.
Our Unique Selling Prepositions are:
Single Negotiable Documents.
Door to Door Service.
Ability to offer customised solutions based on individual customer requirements.
Range of services that cover every aspect of supply chain solution.
Wide international network of partners to expedite cargo movement.
Excellent relationships with shipping lines to achieve priority shipping.
Documentation Support System.
Presence in co-related activities by partner companies, i.e. Shipping, Warehousing, etc.