Project Cargo / Chartering



Tel: (91-22) 2772 8034
Fax: (91-22) 2772 8035
sainathfwd@sainathforwarder.com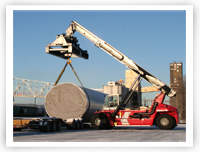 Whether you are building a manufacturing plant, mining or drilling the earth, you will need to procure logistics transportation service to manage your cargo movement. The services include freight management, cargo handling and cargo moving from origin to your final site location.

The most important point in logistic service is that the delivery time should meet your project schedule. Your mistake in choosing a logistics service company may result in project delay and significant lost.

Sainath Forwarders Pvt. Ltd. can help you achieve success. Large project logistics management and procurement services are what we do best.

We work closely with your purchasing team to make sure that everything is according to your schedule. Our process begins when the purchase orders are issued and involves moving cargo of all sizes and dimensions from anywhere in the world to your final site location. We can give creative solutions and the fastest possible response for your inquiries.

We will work closely with you so that all goods will be carefully transported. Our success in handling logistical challenges in the industry lies on our relationships and open communication with clients so that we can provide a successful project experience.

Sainath Forwarders Pvt. Ltd. market intelligence, understanding of market price trends and negotiation skills help buyers and sellers discover the best price value proposition help match the vessel to your requirements.


Our Chartering services add value to client consignments by:
Scanning the market to generate the ideal match between cargo and vessel.
Estimation of voyage.
Offering charters on basis of voyage, period and C.O.A.
Monitoring the vessel for compliance to charter party requirements.
Handling full post-fixture and account tracking.
Demurrage dispatch calculations.
Analysis of the full voyage results.
Up to date market intelligence including port information.